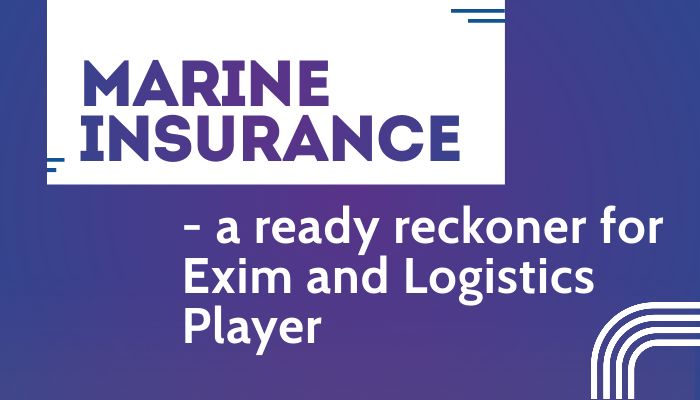 Marine Insurance - A Ready Reckoner For EXIM And Logistics Players
Posted by : Admin/ 20 Mar 2021
Import/ Export

Marine Insurance
is a type of insurance which covers the risk involved in the transportation of goods via sea. The Insurance has been provided only to those goods which are mentioned in the insurance policy, so it is important to read the insurance policy carefully. Risks under marine policy are categorised into three parts such as basic risks, extraneous risks, and all risks. Many acts have been introduced by the government to govern marine insurance business.
Marine insurance act of 1963 is a contract where insurer has been assured to provide with the losses he incurred during the marine losses. There are several principles of Marine Insurance which one must follow in order to acquire the Marine Insurance. Hull insurance, Cargo insurance, Freight insurance, and liability insurance are the different categories of the Marine Insurance. The Insurance policy mentioned by different companies varies so it is important to check the terms mentioned before signing any documents.
The
Export, Import
and
International Freight Forwarding
needs a certain set of documents to make the processes much easier. Every Exporter and Importer must have documents such as Letter of Credit, Bill of Lading etc. It is essential for the process of
Customs Clearance.
One can also use the help of Customs Broker for the same. Marine Insurance keeps the risk of transporting goods through sea at bay.
The webinar session includes the detail explanation of the terms, conditions, types, losses, profits and various other features and elements of Marine insurance.
The webinar session organised by JBS Academy on Marine Insurance – a ready reckoner for EXIM and Logistics player engaged by Professor Kishor Bhatt, an operational banker and a trainer with 54 years of experience. He is Chartered Member of The Chartered Institute ofLogistics and Transport, London. Currently, he is working as a consultant in International Business. Mr. Bhatt has penned more than 22 books in English, Gujarati in the area of International Business and wrote articles for the various magazines and publications. He organised number of training programmes and gave lectures in International Business at various training institutes.
Webinar was attended by 179 students; it was very informative session where the students got to learn things which can play a key role in their success. Students raised their questions and were answered accordingly. The recorded webinar is available on YouTube.
To contact the experienced professional of Import-Export you can contact the team of JBS Academy at www.jbsacademy.com or chat with them on,
[email protected]
team of professionals are always ready to answer all your questions and guide you for the best.
Other Blogs

AIR CARGO FREIGHT CALCULATION

AIR CARGO FREIGHT CALCULATION

AIR CARGO FREIGHT CALCULATION